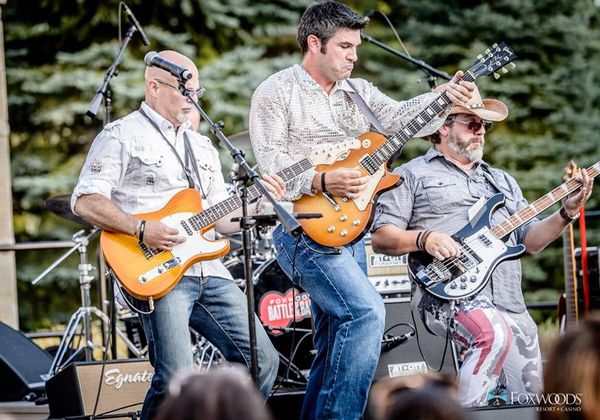 L-R / Kevin Wolfe - Guitar, Sax & Vocals / Steve Dunn - Lead Vocals & Guitars / Brian Celella - Drums & Percussion / Jon Vandergrift - Bass & Vocals 
Dunn's songs are a diverse compilation of tuneful guitar work and intellectually discerning song writing. With universal stories of love and loss, Dunn surprises you with his wry, witty word play and memorable melodies. His versatile voice easily compliments his variety of styles. Steve Dunn is a gifted musician whose abundant talent and engaging performances have earned him a loyal local and growing national following. His fans describe him as a serious musician with a playful sense of humor. You can see Steve Dunn performing live across the US, or hear his unique mix of rock/pop/contemporary music on his CDs "Ok to Drive", "Great Escape", "Plan B", 2012 "Steve Dunn" or their latest 2017 "5".
---

"Steve Dunn"CD review by Roger-Z (10/14/12)
On Steve Dunn's eponymous CD, he proposes a marriage between rock guitar and country songwriting. His smooth vocals, clean-cut, "Rick Nelson" looks, and "Boston" style guitar playing prove very appealing. This "couple" themed package shouts "heart throb!"
Steve Dunn delivers on his image. The "More Than a Feeling" tinged "Lady Luck" finds our hero desperate for a ray of hope. "Lady Luck, if you got a light, won't you shine it on me. I've been lost in the dark so long I need a little help to see. Send a miracle if there's such a thing." The guitar solo builds to an explosive, Allmanesque climax. No one could confuse the Eighties style, hair-metal ballad, "Just the Way You Are" with Billie Joel! "You lead me to your door just to tell me to leave... I opened my heart for you and you left me to bleed. I guess that's just the way you are." This well-crafted song kicks off with a catchy, wordless, vocal hook and builds through the verse to a thundering chorus. On the breezy, acoustic, "Caught in a Moment," love has finally found our protagonist. "When you let your hair down, it's falling in my face. When you let your guard down, yeah it fills my empty space... Now I'm caught in a moment with you." "Have a Little Fun" draws from the hard-rocking, Skynyrd play book. It opens with a dirty, lowdown, blues-rock riff and tells the story of a steamy, wild, southern belle. "Lap dance, have a little fun, don't get caught with the smoking gun. Singing and dance 'til you come undone. Daddy's little girl is gonna have a little fun."
The Steve Dunn band hails from central Connecticut. It consists of Dunn (vocals, lead guitar), Kevin Wolfe (rhythm guitar, vocals, sax), Steve Sylvia (drums), and Jon Vandergrift (bass, vocals). Ron Zarocki handled the production chores. This long-time unit carefully charted out the arrangements and then executed them with a deep passion.
Fifty percent of marriages in this country don't make the grade. But Steve Dunn's liaison between country and rock should stand the test of time. By mixing the most appealing elements of both genres, this union will rock the country!
©2012 Roger-Z
---